Orientation Serves for Community Partners

This September, Western University's incoming students are excited to work with your organization through Orientation Serves (OServes)! This annual Orientation Week event, now entering its fifth year, sees Western partner with local organizations to immerse students in the community for a day of volunteering and service.
This year's OServes event will take place on Saturday, September 11, 2021.
All volunteer activities will be hosted in-person at Western's campus, in the London community, or virtually. We are confident that OServes 2021 will allow students to get involved in the community in new and impactful ways that help advance the UN Sustainable Development Goals, while following COVID-19 safety guidelines.
I'm interested in participating!
What is OServes?
Western is committed to ensuring that students are engaged and connected to the London community. What better way to build bridges between students and your organization than starting on week one?
For students, the day of volunteering means an opportunity to connect with the London community and get to know their new home. They find out about the incredible things that you are doing in the region, which plants the seeds for further volunteering during their time here in London.
For community partners like you, the collaboration is an opportunity to engage a huge pool of volunteers. With thousands of students expected to participate, imagine what could be possible: you might check-off long-standing items on your to-do list, or create new and exciting programming that aligns with your goals in order to take advantage of the many helping hands.
We are here to help.
Not sure how to engage students? We have put together a list of ideas that might give some inspiration on potential projects. Most OServes activities can be easily adapted for both virtual or in-person delivery on Western's campus or in the community.
Whether you already have an incredible idea or are looking for some help with brainstorming, we would love to connect with you--fill out this form to contact us about OServes!
Need some inspiration?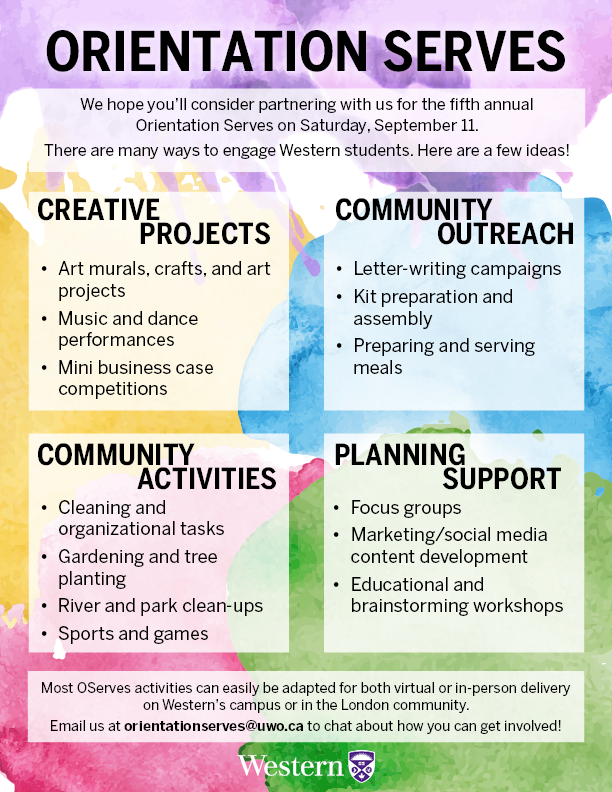 Orientation Serves
We hope you'll consider partnering with us for the fifth annual Orientation Serves on Saturday, September 11.
There are many ways to engage Western students. Here are a few ideas!
Creative Projects
Art murals, crafts, and art projects
Music and dance performances
Mini business case competitions
Community Outreach
Letter-writing campaigns
Kit preparation and assembly
Preparing and serving meals
Community Activities
Cleaning and organizational tasks
Gardening and tree planting
River and park clean-ups
Sports and games
Planning Support
Focus groups
Marketing/social media content development
Educational and brainstorming workshops
Most OServes activities can easily be adapted for both virtual or in-person delivery on Western's campus or in the London community.
Email us at orientationserves@uwo.ca to chat about how you can get involved!
Western logo
We're always available at orientationserves@uwo.ca if you have any questions or want to chat about how you can get involved.